August starts tomorrow.
INORITE.
August means
thaaaat
much closer to Fall which means boots! And scarves! And hats and layers and cooler than BLAZING HOT.
And also our closing date is at the end of August.
So a house and piano and garden and puppies are on the very near horizon.
(basically me and Mark every night as we discuss plans and such)
I'm discovering that these Minion gifs are the truest depiction of exactly how I feel pretty much all of the time. i.e...
I have been both the dancing minion and punching minion
My attempts at the concept of "Sexy"
(it's also depressing how close
the other minions face is to Mark's reaction when this happens...)
My brawling skillz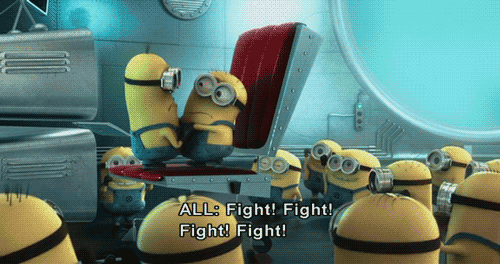 (not to mention, that's exactly how it goes when I want to post
something that just happened on social media
and Mark
doesn't want anyone to know)
Insert blasting Disney music and this
is my cleaning MO
When I help Mark with repairs
My fashion sense
(all of it, the whole picture. yep.)
My level of maturity
All other aspects of life